Look what I woke up to this morning !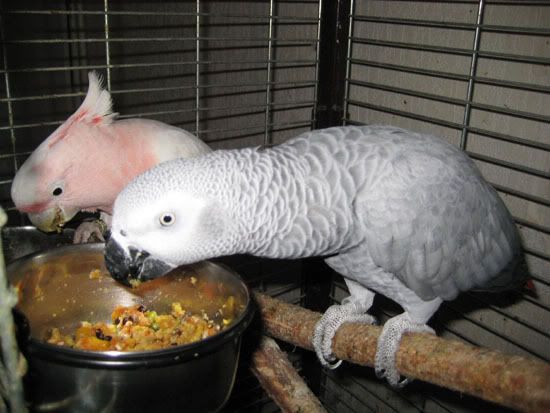 For you in order to understand, I will tell you what you are looking at : two parrots that have seen each other for the first time exactly a week ago, and who are side by side peacefully eating their meal . That, while she is the first Grey he has ever seen and he is the first Cockatoo she has ever seen, with that funny crest causing them both jump away from each other for the first few days.
I have had sleeping them in the same cage from day 1, which is amazing in itself; though they did sleep on the opposite sides of the cage. This morning I was a little late with getting up (meaning 08:20; the life of a parrot mommy is no walk in the park because there is always a meal to be fixed, heh), so upon waking up and turning my head to the cage instinctively to check up on the kids, I see them sitting on the perch side by side this close for the first time, as if they have never done differently, searching for food in the empty bowls and looking up at me with the very same reproachful expression on both the faces (how does mommy dare to sleep when the tummies are empty !?!).
Damn
I am proud of them.
________________________________________
___
Current Mood:
Enthralled
Current Music: Madrugada ~ Step into this room and dance for me